By Phillip Friddell on 7th Sep 2023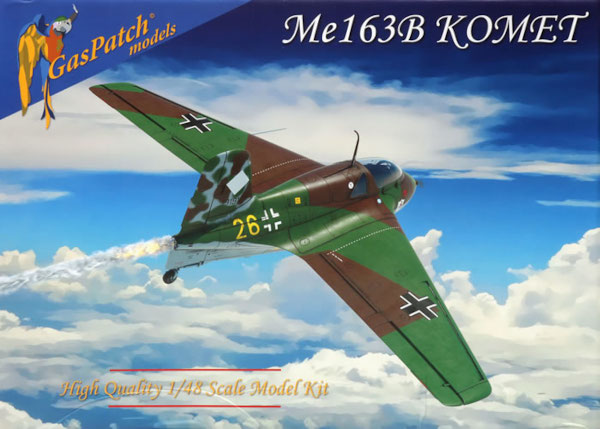 You would think, given all the plastic model kits that have been released of Willi Messerschmitt's diminutive Me163 Komet over the years, that it was one of the more important German types to fly during the Second World War when in fact nothing could be further from the truth. An offshoot of investigation of rocket-powered flight that began in Nazi Germany during the late 1930s, the diminutive Me163B was developed and put into service by a desperate nation as a point defense interceptor in a vain attempt to stop the unceasing bombardment of Nazi Germany by the Western Allies. Though possessed of blinding speed and heavily armed it proved a failure as an interceptor, scoring just a handful of kills during the course of its brief combat service. In many ways it was more dangerous to its own pilots than it was to the enemy due to the explosive nature of its fuel and that substance's propensity for dissolving unprotected human flesh on contact—the Komet was not, to put things mildly, a better mousetrap.
In spite of all that, the airplane has been kitted several times over the years beginning with Hawk's primordial 1/48th scale offering (first released in 1960) and with new kits being released right up until today. We've seen replicas of varying quality issued in 1/72nd, 1/48th, and 1/32nd scale and for all its operational obscurity the airplane has become a mainstay of any Luftwaffe enthusiast's collection. We were adequately served by a couple of those existing kits but GasPatch, who have a considerable tendency to march to the beat of their own drummer, or perhaps even to their own entire band, decided we needed another one. Of course, there's only so much that can be put into a model as tiny as a 1/48th scale replica of an airplane that is this miniscule in the first place, but GasPatch have found a way to make their kit into something far greater than the sum of its parts. Think back a moment to that prehistoric Hawk edifice if you will, or maybe Lindberg's 1/72nd scale offering from a slightly later time frame. Both of those kits were basic in the extreme, consisting of just a few pieces of plastic and a minimal decal sheet. They were adequate back then, within the context of their time and place, but grits ain't groceries and those old dogs no longer hunt. In point of fact, even their more recent brethren left a few things to be desired detail-wise, regardless of the time of their introduction or their scale. We're willing to go out on a limb and state that this is The Kit of the Komet, or at least it is if 1/48th is your scale.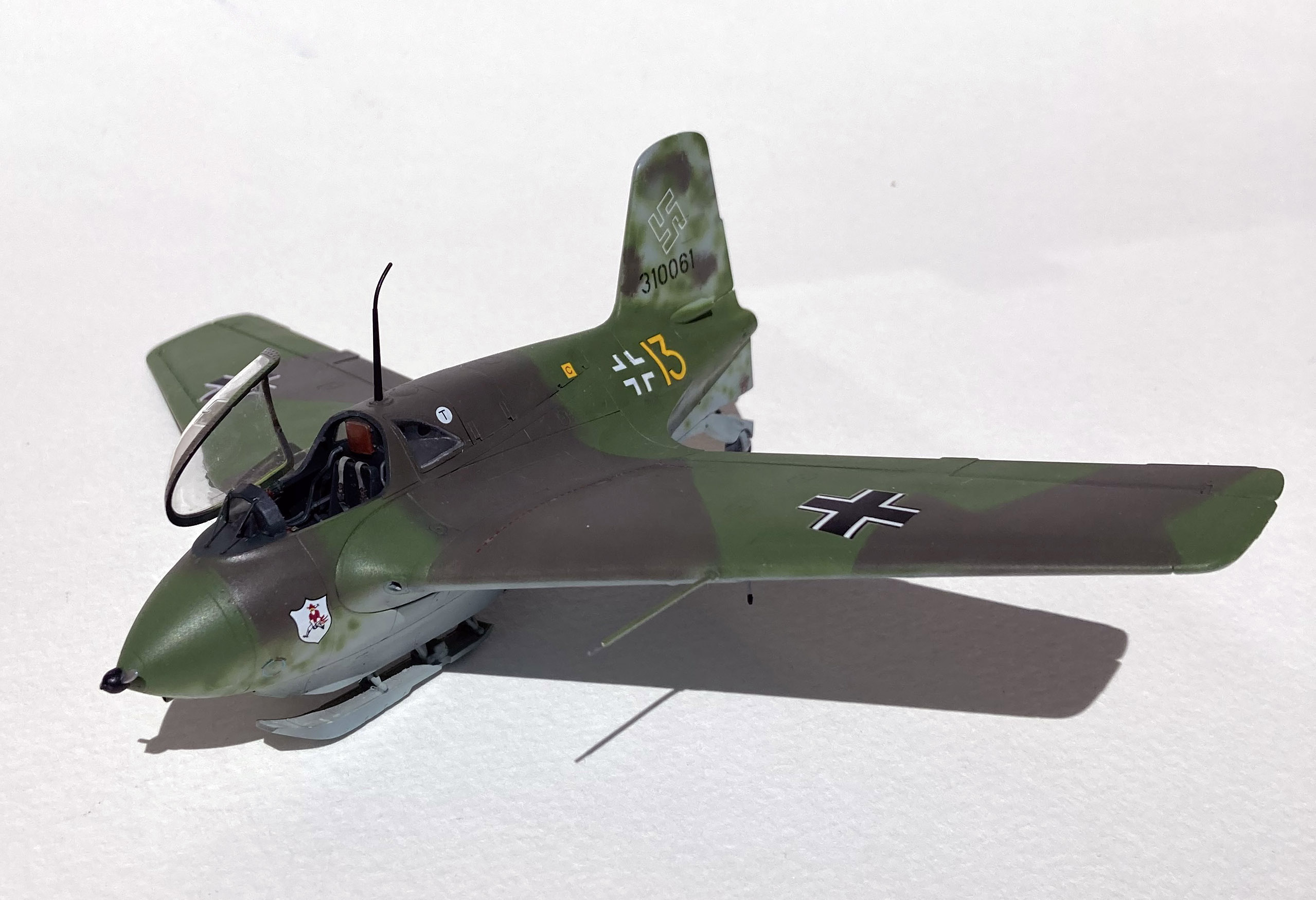 You may well be asking yourselves how anyone could raise this tiny model to become something more than the sum of its parts. That's a valid question with a simple one-word answer: Detail. The cockpit is detailed. The area behind the cockpit is detailed and has removable covers so you can actually see what's in there. The gun bays are detailed with removable access panels. The landing skid and tailwheel assemblies are detailed. The launching dolly is detailed. The multitudinous decals are detailed, albeit miniscule. There's photo-etch, but only where it makes sense to have it, and a couple of tiny bits of resin, and those items are as well engineered (and detailed!) as anything the best of the aftermarket provides. Taken as a whole, the kit is an absolute tour de force. It's a little bitty one, mind you, but it's a tour de force all the same.
There's no such thing as a free ride in this world, however, so a few things will crop up in the course of assembly to challenge your skills. For starters, you're probably going to want some magnification to help you out in the cockpit if nowhere else. Those pieces in there are tiny and the decals for the instruments are well and truly miniscule. They're also provided as individual stickies which requires their installation one gauge at a time, so they can be a bit of a challenge if allowed. Everything else in the cockpit is equally petite but also thoroughly buildable; we're about as clumsy as it's possible for one human being to be and we had no construction issues of any sort, nor any problems with the instrument panel, but we were using magnification. Your life with this kit probably won't be nearly as much fun if you choose not to do that.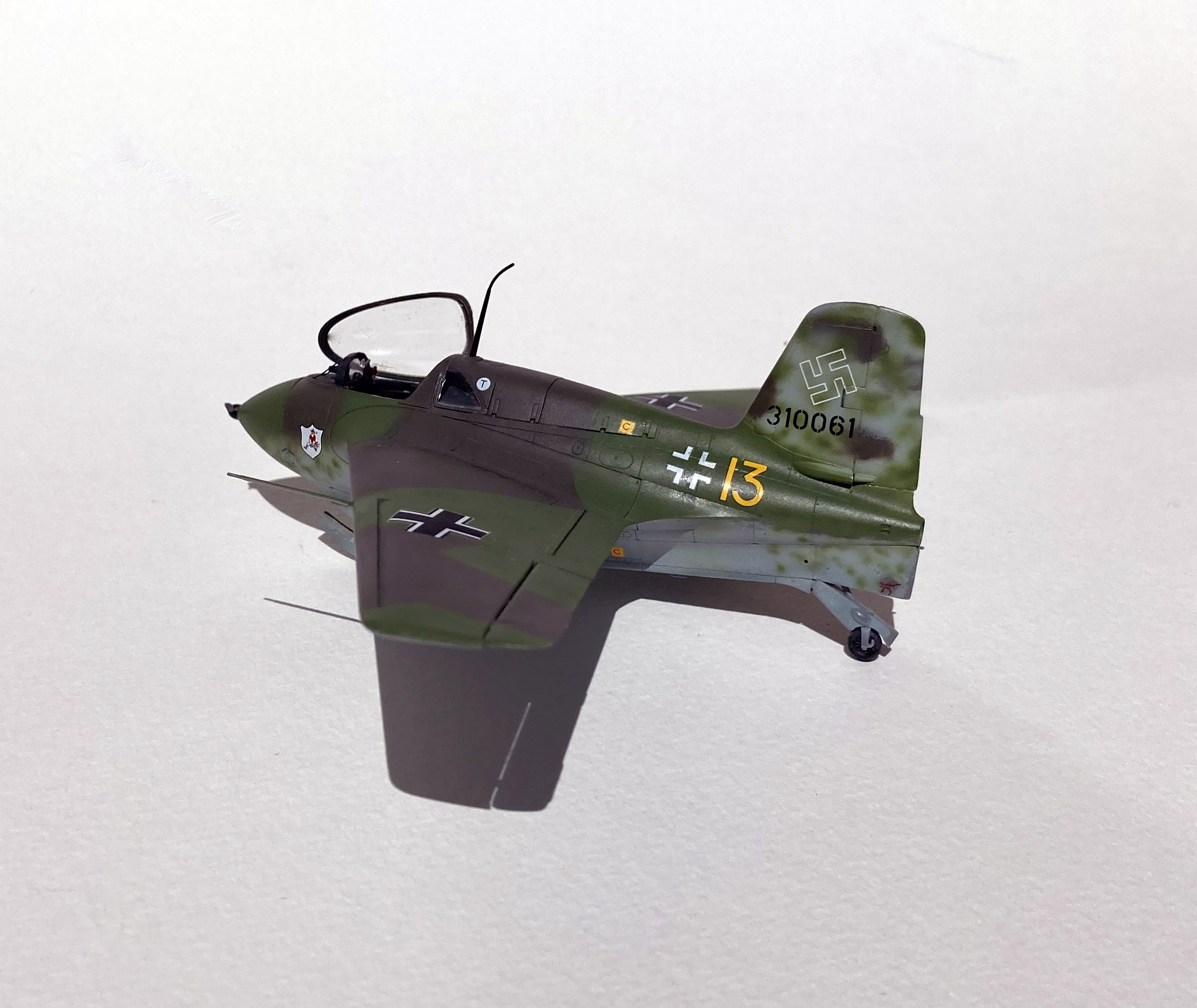 While we're on the subject of things GasPatch has done well, it should be noted that the full color instruction booklet is one of the best in the business. Everything on the model is detailed within and properly laid out. Colors are defined both in the instructions' written text and in printed color on the parts. We wish everyone who manufactures plastic models of anything would take a deep breath and emulate what these guys have done!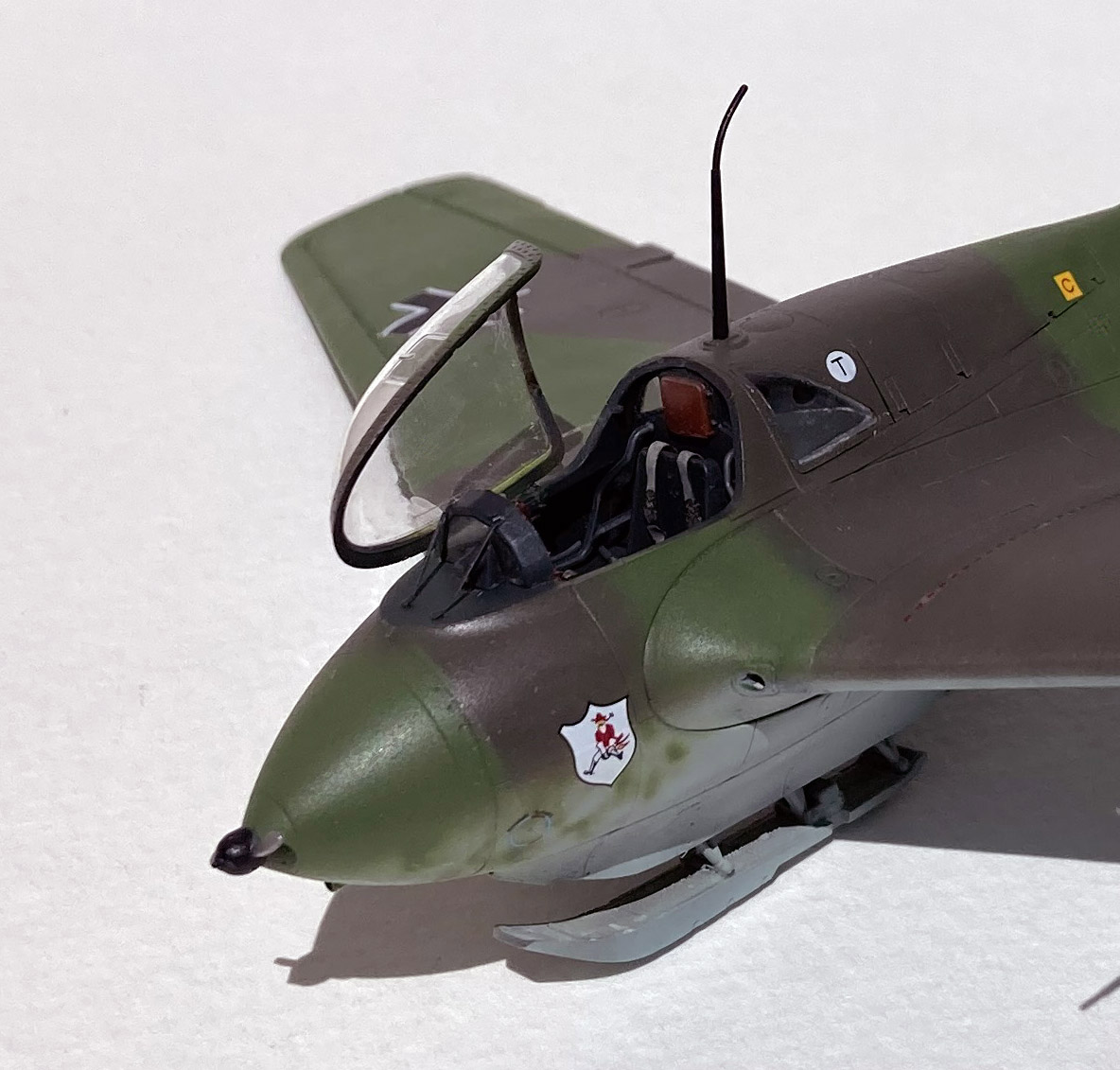 Everything fits too, with only minimal requirement for filler but with a caveat. We rarely if ever build our models opened up—35 years in aerospace has led us to prefer models that look like airplanes rather than engineering projects—but this kit is designed with removable panels and internal detail in mind and you'll do a minor bit of sanding on those fuselage covers should you choose to model them closed. On the other hand another bugaboo of many modelers, the included photoetch, fits perfectly and is stiff enough to preclude disasters for most people. The decals are superb.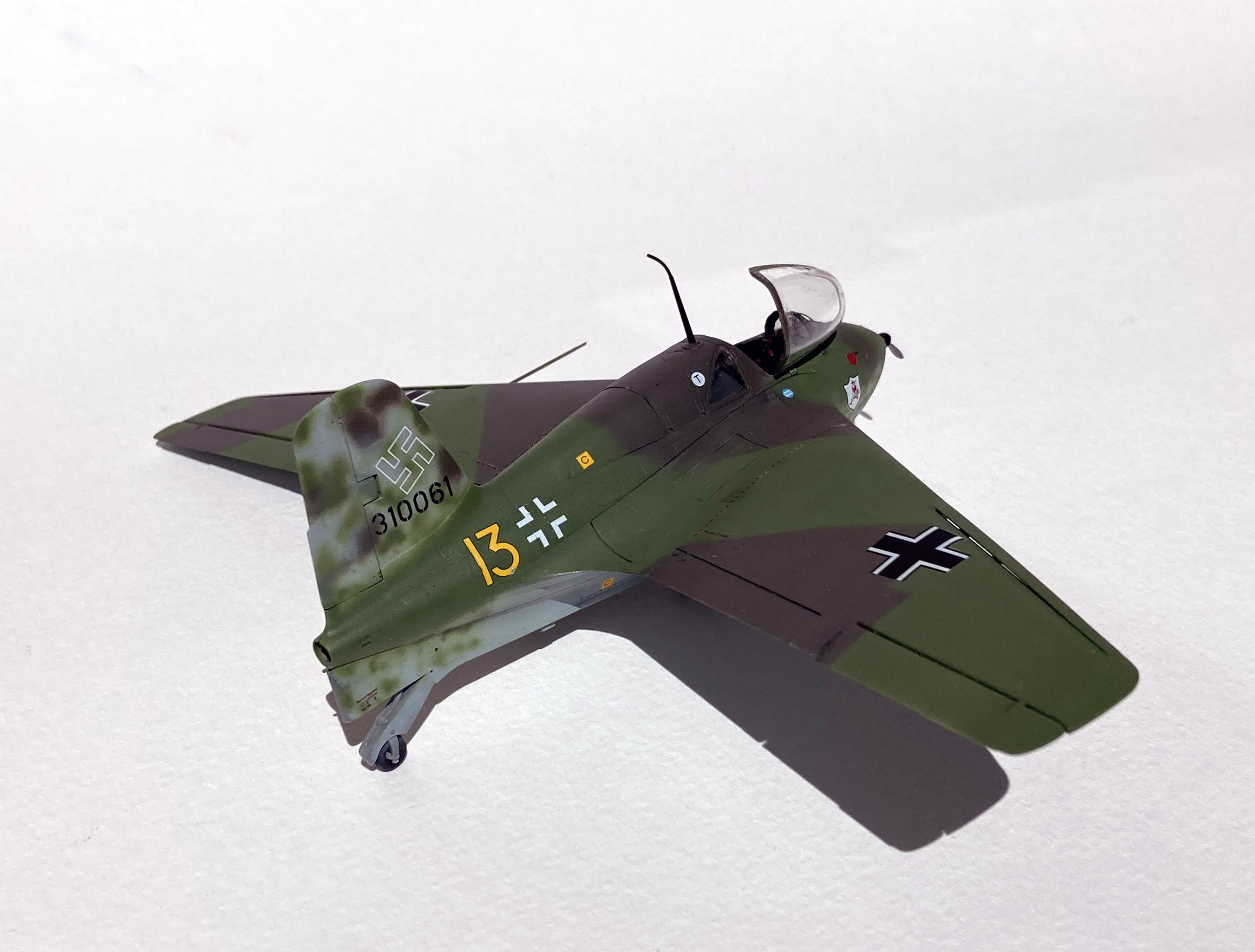 There isn't much in the way of options once you've decided whether or not you want to open up the fuel tank and gun bays, but the landing skid and tailwheel can be modeled deployed or stowed and the tailwheel can be depicted either with or without its aerodynamic cover in either of those configurations. The canopy is intended to be depicted in the opened position but can just as easily be shown closed and features masks for both interior and exterior surfaces. The kit also provides the tiny launching dolly used by this aircraft but we chose not to use it, preferring instead to model the airplane with its landing skid and tailwheel deployed. Our intention is to put it in a small diorama so that works for us, but the kit does provide options in that regard.
Let's summarize then: The model is accurate. The kit is comprised of relatively few pieces by today's standards but what's included is superb. The decals are excellent and work beautifully, providing markings for four operational airframes and two captured specimens (which, with just the tiniest bit of research, could easily be backdated to operational aircraft as well). Fit is exemplary and even the removable panels can be easily dealt with. If we were grading this one on a scale of one to ten we would probably assign it a nine. It's honestly not a project for the rank novice, unfortunately, but it isn't that tough to work with as long as the modeler is possessed of a bit of patience and magnification.
GasPatch doesn't issue kits very often and its easy to forget about them because of that, but kits like this one make us wonder what the magicians residing there will do next. The subject matter may or may not be everyone's cup of tea, but we like it and we like it a lot.
If only the real airplane had been as good as this kit…